Why you might need a compact dishwasher:
If you actually like washing dishes by hand, you have my utmost respect! I personally don't know
anybody
who really likes to wash dishes by hand.  It's time consuming and messy, right?
That's where buying a compact dishwasher for small kitchens might make sense.
Compact dishwashers are eco-friendly because they use much less water. If nothing else, just saving water is a bonus!
Did you know that hand washing dishes uses up to 27 gallons of water for each load?
A compact dishwasher uses between 1 and 3 gallons!
So, you'd want a compact dishwasher if:
You rent or own an apartment or home without one.
Your kitchen is small with no space to install a standard dishwasher.
You have an office with a kitchen and a sink but no dishwasher.
You have an RV or a summer cottage and a dishwasher would be so good to have.
Portable or Countertop?
There are portable dishwashers and countertop dishwashers. Neither one requires plumbing because they temporarily hook up to your kitchen sink faucet.
Portable dishwashers have wheels, are pretty much the size of a regular dishwasher and will work for you if there's room next to the sink when it's in use and you have a space like a pantry or a corner of the room to store it when you don't need it.
No storage space would be a negative, for sure.
Countertop dishwashers are the way to go if storage is limited and if you have a large enough space on the countertop near the sink. Most models measure 17.2 x 19.6 x 21.6 (give or take a little) and they weigh a little over 40 pounds.
They have everything a standard dishwasher has but on a smaller scale.  Countertop  models hold four to six place settings of dishes with plates up to 10.5″ in diameter plus a rack for flatware.
Standard Features May Include:
Control panel with light indicators

Several wash cycles including Light, Normal, Heavy, Eco

Stainless Steel interior
Automatic detergent and rinse-aid dispensers
Delay start feature
Faucet adapter, inlet hose, and outlet hose that drains directly into the sink.
Best Choices
So there are quite a few brands to consider but having researched most of them, my choices come down to two.
First choice:
hOmeLabs Compact Countertop Dishwasher (yes, that's spelled right…not a typo) pictured below and available on Amazon.com:
This is a #1 Best Seller on Amazon with Free Shipping included.  And it's Energy Star certified.
Good to know from the description:
With simple to use control panel and light indicators. Program selector has 6 wash cycle options: heavy, normal, ECO, glass, speed, and rinse for your different dishwashing needs. Delay button light to postpone wash cycle.
There are so many positive reviews from verified purchases on this model.
Here are a couple of them:
This thing works fantastic! For my first run I put it to the test with a casserole dish and some other things that had baked food on it. Baked on spaghetti sauce was gone without a trace.

It took me a bit to figure out how to hook it up, the kitchen faucet didn't have the threading but once I got it hooked up it was very easy. It was so easy to get started I thought I was doing something wrong. It's not very loud either which is nice! I highly recommend this dishwasher.
Another verified purchaser said this:
Set up was a breeze, 5-10 minutes total. They also package this thing in a serious manner, there were wood slats in the box keeping things secure.

Immediately ran a load of dishes after hooking up the hoses and everything came out great. I've had another brand before and the configuration of the dish rack in this one is superior, it allowed me to get 3 days of dishes in the machine without any fuss. (Household of two).
My second choice for a countertop dishwasher:
SPT 6 Place Setting Silver Countertop Dishwasher from Overstock.com.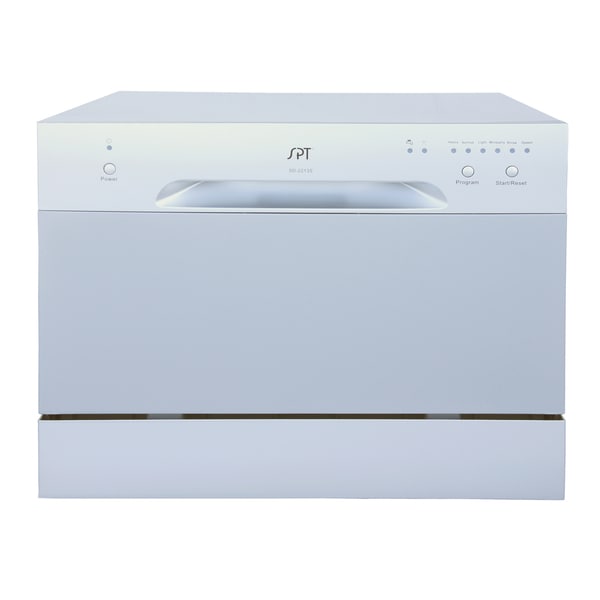 From the description on Overstock:
Perfect for apartments, office kitchens or any small-sized kitchens, this SPT Silver Countertop Dishwasher offers full-size power in a compact design. With a height of only 17.24 inches, this unit will fit between most countertop and cabinetry spaces.
There are two great reviews from buyers who wanted this for their campers/RVs.
This dishwasher has been great. It fit perfectly on my countertop in our camper. I use it almost every night to wash baby bottles and cups. I am also able to get pioneer woman's pots and pans in it.
And another buyer said:
Works and fits great in our RV camper and we can finally use a dishwasher versus hand washing all our dishes. We had no option for a large, built-in dishwasher unit so this fitting on our countertop did the trick. Fits enough dishes for at least a family of 4 for at least a few meals so we only have to do a load once or twice a week. Overall satisfied with the quality and all the features of this unit. Would recommend to anybody who doesn't have the capability of installing a built-in dishwasher in their home or mobile vehicle.
There you have it…
Another plus for buying a countertop dishwasher, especially if you're renting your home, is that you can take it with you.
You can use it so many places like a downstairs family room with a wet bar and mini-kitchen. No need to haul dirty glasses and dishes upstairs even if there's a standard built-in unit in the main kitchen.
Take it with you when you go camping.  Take it to your office.
There are, of course, other models and brands of compact dishwashers for small kitchens but this post will give you a place to start.
Going hand-in-hand with this post, I'm beginning to review other small appliances that are perfect for small spaces.  I've written a post on Best Small Kitchen Appliances-Part I where I've reviewed and recommended my Power Air Fryer.  That'd be terrific to take camping, too, now that I think about it.
If you're reading this post, you most likely have been thinking about getting a compact dishwasher and I hope this has given you the info you need to go ahead and order one. You know you don't want to keep washing those dishes by hand, right?
This post has affiliate links, of course, so if you purchase something from one of them, I may earn a commission.  I try to thoroughly research anything I recommend and I'd never recommend a product or service that I wouldn't use, myself.
I'd love to hear what you have to say about this idea so be sure to post in the comments. And if you have any questions or would like more information, please ask.
Thanks for stopping by…stay tuned.