(Updated 10/3/2018)
Are you moving to a smaller home? There are a few things to consider when you are moving into a small space whether or not you're moving from a larger home or one that's about the same size.
And let me say that all small spaces are not alike.  There are so many variables to consider.
Floor plans, for example, might be about the same size but totally different in layout.
It makes a difference where the windows and doors are located and whether or not it's a loft space, open concept or separate rooms.
Are there stairs? If there are, will you be able to move large pieces of furniture in and out of the space?
Checklist – 9 things you need to consider on your home search for a smaller space.
Are you planning to rent the property or purchase the property?
Some of the considerations will be the same but if you're renting, these tips will make more sense. If you're buying, they're still important considerations but you'll be able to be more flexible.
When you're looking at multiple apartments or homes for the first time:
Carry your Camera with you and take pictures. Photos will give you a frame of reference because – trust me…when you get home at the end of the day, you'll need a frame of reference! It's a big decision so you'll need to weigh all the pros and cons of each place.
2. Bring a tape measure. (I always have one with me) so that you can measure each area…will your furniture fit?
3. Do a quick sketch of the floor plan.  Where are the windows and the doors?
4. If you're renting, ask if you can paint the walls or hang wallpaper?  If you're buying, of course, you'll just have to decide if that's something that will need to be done.
5. Consider storage: What size are the closets? How much storage is in the kitchen…the bathroom? Is there a cupboard for your linens? Is there a coat closet near the front door?
6. Ask these questions, too:
What is the countertop material…laminate or natural stone?
What appliances are included?
Is there a dishwasher?
Where is the laundry area…in the apartment or on another floor?
Are you allowed to install your own laundry appliances?  This is a consideration if you're buying a condo, for example.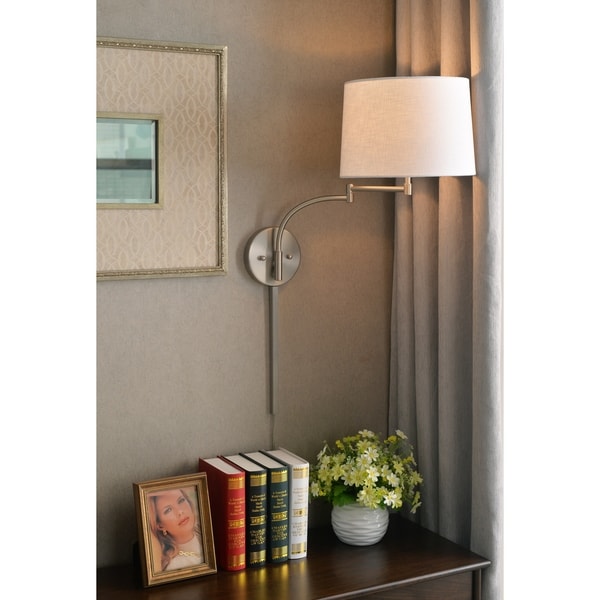 If space is going to be tight, consider purchasing wall sconces to hang in lieu of table lamps or floor lamps. This pretty wall lamp is from Overstock.com. They've got so many great choices so if this isn't your style, you've got lots of options. (affiliate)
8. Check out the flooring:  Are the floors carpeted or are they hardwood or laminate…is there tile in the kitchen and bathrooms? Will you need Area Rugs?
9. Check the size of your current furnishings and refer to the photos you took of each place to see if there is a good fit.  Once you decide which space is right for you, you can feel confident that you've made a good decision.
Honestly, I've experienced the remorse of moving into a smaller home thinking all of my furniture and belongings would fit and then realizing that I was totally wrong!
True story…when we moved from Pittsburgh, PA to a lake home in Minnesota we brought along a beautiful sectional that we'd purchased years ago when we lived in Kansas City (yep…I was a corporate wife and we moved several times during my husband's career).

Anyway, I had a miserable time trying to fit that sectional in the living room of our new home. Talk about frustrating! Finally, I figured out an arrangement that worked but that's an illustration of what can happen if you aren't prepared.
For small space furnishings like storage benches which are classic multipurpose furnishings, you can't go wrong with Overstock.com.

So this should give you some guidance when you're considering a move.  Print this list to carry with you.
What are some of the dilemmas that you've faced during a move?
Did you figure out a way to resolve them?
Leave a comment or a question and I'll promise to reply.
I hope you've found this post interesting and useful and if so, it would be great if you'd share on Facebook, Twitter, Pinterest & Google+.
As always, thanks for stopping by and stay tuned!