There are so many resources out in cyberspace that give excellent advice and that tweak your decorating creativity.
Decorating and organizing a small space doesn't have to be impossible…you just have to know where to look.
Here are links to a few of my favorite online resources:
In my post How to Personalize a Small Space Rental, I've included a video from Apartment Therapy showing two apartments with identical layouts but totally different vibes.  Apartment Therapy is probably my favorite decorating site simply because it encompasses such a wide variety of decorating dilemmas…not just small space decor.
Pinterest and Houzz – 2 Favorites
Another fabulous site for decorating ideas is Pinterest.  Seriously, if you need ideas for holiday decor or bathroom vanities or gardening in a small space, Pinterest is a great place to search.
Even if you don't need decorating ideas, you'll find all sorts of hints, tips and solutions for healthy recipes or funny quotes, craft ideas, wall art, home based business ideas…you name it and I'll bet you'll find just what you're looking for.
If you haven't already, consider joining Pinterest…you can create your own Boards and save your favorite ideas from other Pinterest friends.
Start by visiting my Pinterest Boards…I've got 28 boards and more than a thousand pins!  One of my boards is Small Space Solutions.
The first decorating site I joined was Houzz.  That was before I moved to a townhouse.  But Houzz has thousands of decorating and DIY ideas for homes and gardens both large and small.  It's a wonderful place to present a design dilemma at the Advice tab.  You'll get answers or suggestions from other members and a few professionals to help you with your problem.
Finding Perfect Furnishings is Fun!
One Kings Lane is another beautiful resource for every possible home decor ideas that you might be searching for…and now you can search for whatever you need for entertaining, gifting and decorating. So much beautiful art objects like this: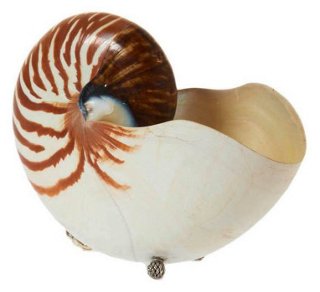 8″ Nautilus w/ Sterling Silver, Brown
from: One Kings Lane
They've got furniture and decor for every room in your home! Be sure to check out the website.
There's also up to 70% off  in their warehouse sale…can't beat that deal!
So check out these links and please let me know your thoughts.
If you have favorite decorating sites, I'd love to include them.
Thank you for visiting…if you enjoyed this post, please share on Twitter, Facebook and Pinterest!