Unique modern area rugs as a focal point
If you have a small home without a lot of wall space, a unique modern rug can stand in as a focal point.
It's a great way to choose colors for accessories, too, to tie the room together. It's all about area rugs that complement your design style without overwhelming the room.
Notice in this picture that the coral color in the rug has been carried into the throw pillows on the sectional. Just the right pop of color.
So what are some considerations to think about when choosing area rugs?
#1 Color
Color is a good place to start. Assuming that the floor is a hard surface like hardwood, laminate or tile, you'll either want to match the color of the floor or contrast it.
Tone down the color/pattern of the rug if  you have patterned wallpaper or a focal point like a large painting or large windows with a beautiful view,
If, on the other hand, your furniture, walls, and windows are more neutral, add a splash of color with a vibrant area rug like this:
This area rug also defines the seating area in this open-concept room. I love it and something I'm thinking I need to do in my own small home. I have a neutral, light beige area rug that anchors my sofa and side chairs but adding a bright color in a rug like this would be terrific. So many colors to choose from for accessories.
Here's a totally unique modern area rug that I really like. It's handmade and it comes in seven different sizes and the colors are vibrant and happy. (Source: Overstock.com)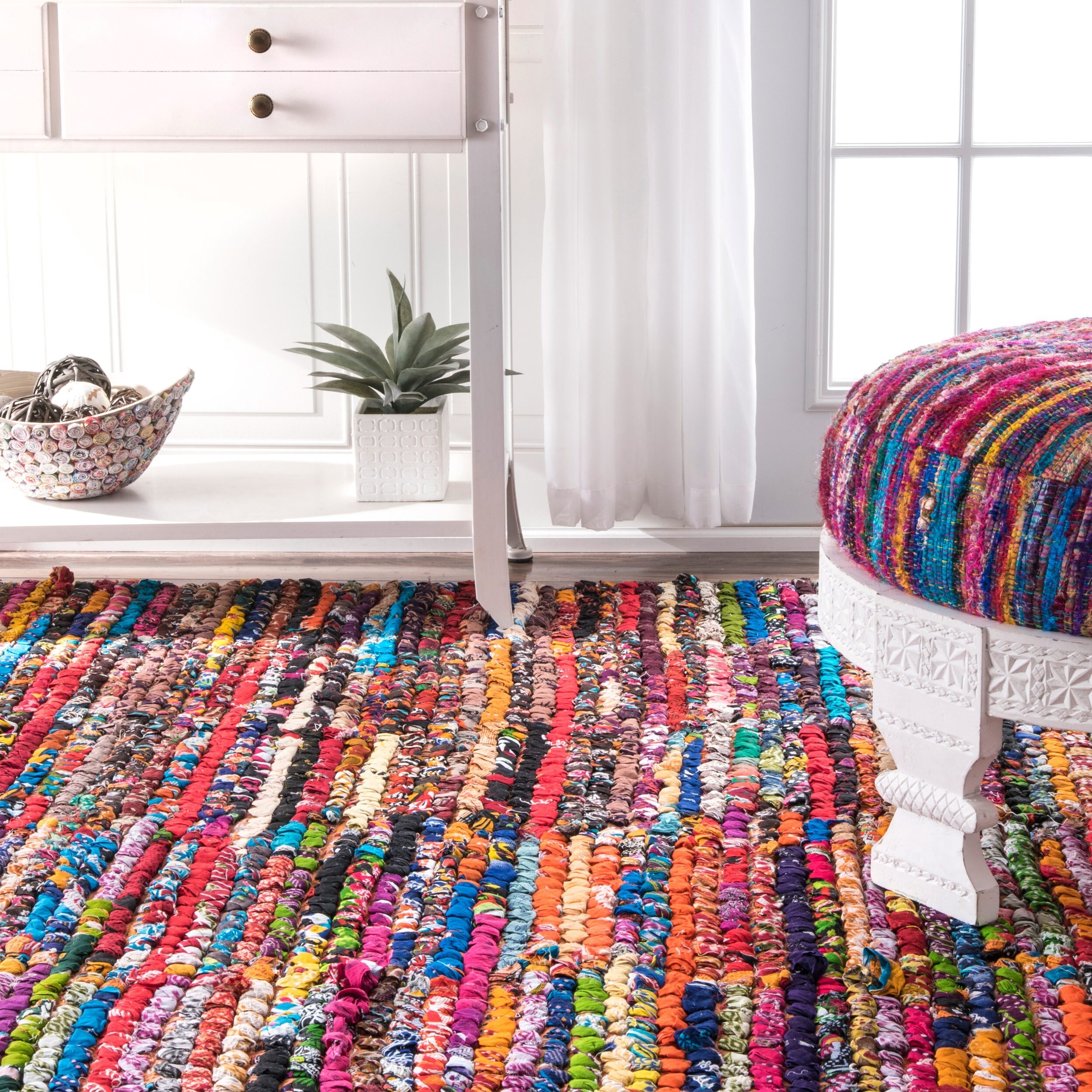 #2 Texture
An easy way to add texture to a room is with area rugs.  Sometimes it depends on the type of rug. For example, that handmade braided cotton jute area rug in the above picture not only adds color…it has a ton of texture, too.
There are a bunch of ways rugs are produced or constructed and they all lend themselves to different kinds of texture. Some rugs are handmade and some are produced by machines.  They fall into one of the following categories:
Braided
Hooked
Tufted
Flat Woven
Shaggy
Knotted
If you have soft, overstuffed furniture in the room, you might consider a flat-weave or sisal rug as a contrast.
If the furnishings are contemporary and angular, high-pile rugs or rugs with modern patterns would lend a softening effect.
I love this beautiful handprinted Octopus rug, too. Totally unique and modern. It's a great example of a flat-woven rug. Even though it's a flat weave, it offers texture because of the lively pattern. Love, love, love it! (Source: Overstock.com)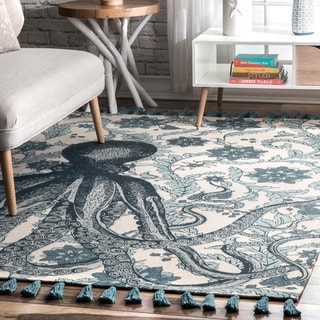 Rug hooking is both an art and a craft where rugs are made by pulling loops of yarn or fabric through a stiff woven base such as burlap, linen, or rug warp. The loops are pulled through the backing material by using a crochet-type hook mounted in a handle (usually wood) for leverage. In contrast latch-hooking uses a hinged hook to form a knotted pile from short, pre-cut pieces of yarn. (Source: Wikipedia)
The Pazyryk rug is one of the oldest carpets in the world, dating around 5th c. BC. The Pazyryk rug was found in 1949 in the grave of a Scythian nobleman in the Bolshoy Ulagan dry valley of the Altai Mountains in Kazakhstan. The Pazyrk rug had been frozen in the ice and it was very well preserved. The rug has a ribbon pattern in the middle, and a border which has deer, and warriors riding on horses.[1] (Source: Wikipedia)
Wow…that's amazing, isn't it?
Believe it or not, this unique modern indoor/outdoor rug is hand-hooked! I mean, can you believe that something this durable is actually hand-hooked? (Source: Overstock.com)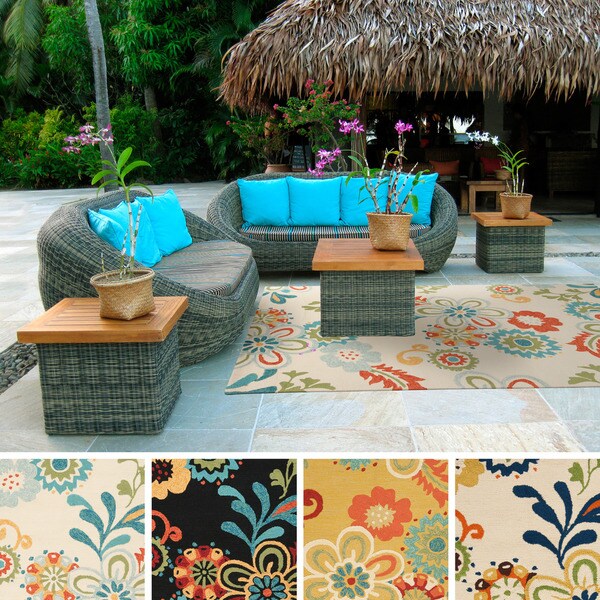 Hand-Knotted Rugs vs. Hand-Tufted Rugs
The Spruce website offers a good explanation about the difference between hand-knotted rugs and hand-tufted rugs. They explain that the cost and the quality of a hand-knotted rug are determined by the number of knots per square inch.  Therefore, a higher density hand-knotted rug is usually a better quality rug.
This is a great short video that shows the difference. A picture is worth a thousand words, right?
Unique hand-knotted rugs do tend to be more expensive but they're really works of art, too.
According to the website Rug and Home:
Nourison Hand-Knotted Wool Rug

 

Another benefit of hand-knotted rugs is that they are made from natural fibers: wool and silk, or a combination of the two. These fibers are the most durable for carpet weaving. They do not shed and they are extraordinarily durable and clean easily. Not to mention wool being an insulator as well as flame retardant! They continue to hold their luster, year after year.
Hand-Tufted Rugs
Hand-tufted rugs are made by punching strands of wool into a stretched canvas using a speed tufting tool.  It's not a time intensive project and doesn't require a lot of skill.
After piling with wool, the rug is removed from the frame, and a scrim fabric is glued to the back. To complete the rug, a fringe is added by either sewing or gluing it on. (Source: Rug and Home)
Shag Rugs
The original shag rugs were actually Flokati rugs which are woven wool rugs.
They are shaggy in appearance and are thick and soft. Although producers claim that they follow an ancient textile tradition, the first mention of them, according to the Merriam-Webster Dictionary, was in 1967. Modern wool or synthetic rugs may be purchased in a variety of colors. (Source: Wikipedia)
Long shaggy wall-to-wall carpeting was the thing to have in the 70s and 80s. The shag rugs and carpets today have no resemblance at all to those relics!
I have a white shag area rug in my guest room and although it can be a challenge to keep it clean, it's so cozy and homey. That's a feeling I want my guest room to evoke.
Overstock.com actually has a sale going on for the next few days and this gorgeous unique and modern beauty is one of the deals. There are 270+ reviews of this rug and they're all great.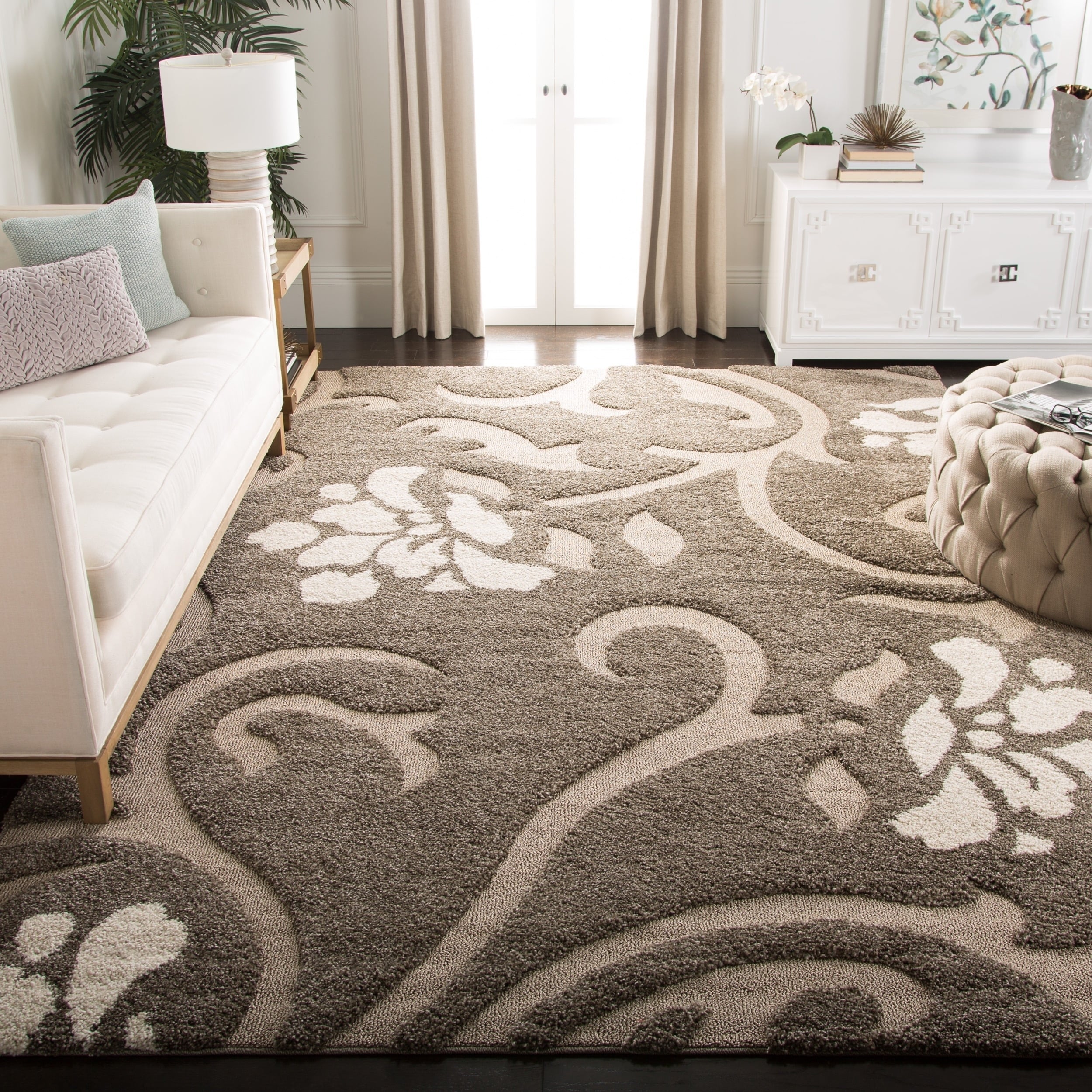 #3 Size
The third consideration when choosing area rugs is size. Just a couple of "rules" to keep in mind.
In the dining room the rug should be large enough that when the chairs are pulled out from the table, all the legs are still on the rug.
In the living room, the rules relax a little. Ideally, if you're using the rug to define a seating area, all the legs of the seating pieces are on the rug.  But it's fine to just have the front legs on the rug. What you want is to have your feet on the rug whether you're sitting on the sofa or a chair.
In an entryway or hallway, the runner should be wider than the doorway. A good rule of thumb is to allow six inches of floor space on all sides of the runner.
Last but not least:  Whether under a carpet or an area rug, you really need to have a rug pad.  Rug pads help prevent slipping and since rugs wear from the bottom up, rug pads help keep them in good shape. Plus they add a nice cushion to walk on.
So I hope this gives you most of the information you need to choose unique modern area rugs for wherever in your home you need a pop of color or texture or a way to define an area.  Area rugs are just the ticket for all those dilemmas.
For more sources for inspiration, check out my post on The Best Links for Small Space Decor Ideas.
As always, thanks for stopping by. Please leave your thoughts in the comments…for example, how have you used area rugs in your home? Did you create a focal point or a seating area using area rugs?
Stay tuned!